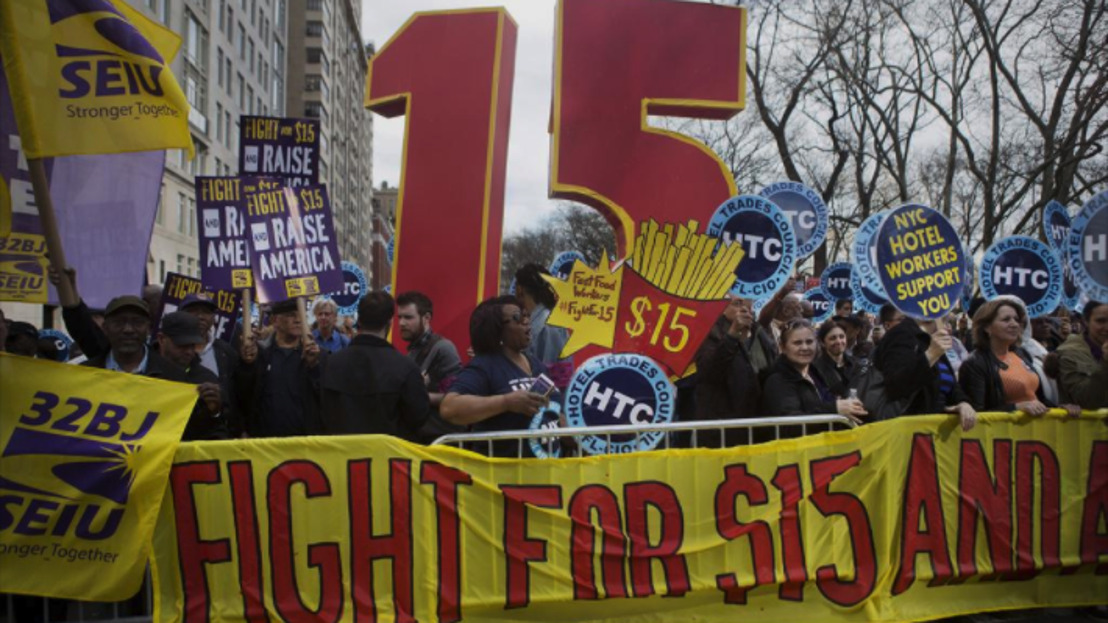 'Fight for $15' heads to Annapolis, as General Assembly considers bill to raise minimum wage
The effort to raise the minimum wage to $15 per hour has gone statewide, after failing twice in Baltimore City. Companion bills calling for the raised minimum in Maryland are now being considered by the state Senate and House of Delegates.
Monday, February 5, 2018 — By Morgan Eichensehr – Reporter, Baltimore Business Journal
Senate Bill 543 and House Bill 664 call for Maryland to incrementally increase its minimum wage rate — currently at $9.25, and set to rise to $10.10 in July — to $15 per hour by July 2023. Under the provisions of the bill, Maryland's lowest legal wage would become $11 in July next year, and rise $1 every year until 2023. Then each following year, the minimum would rise or remain stagnant depending on growth in cost of living.
A similar measure has already been passed in one Maryland jurisdiction: Montgomery County. And some Baltimore City Council members have previously tried to raise the local minimum, as well.
City Councilwoman Mary Pat Clarke led the effort to establish a $15 minimum in Baltimore, through two separate bills. Last year, her measure made it through the City Council, but was vetoed by Mayor Catherine Pugh, who has said "it is in the best interest" of the city to follow the state's lead in raising the minimum wage. The issue spurred intense public debate in Baltimore.
Business representatives from the Restaurant Association of Maryland, the Greater Baltimore Committee, Downtown Partnership of Baltimore and local manufacturing firms, were vocal opponents of the local bill, arguing that higher costs of labor would create a competition imbalance between Baltimore and the surrounding counties, and could push businesses to leave the city. Meanwhile, advocates of a $15 minimum have argued that low-wage workers deserve a minimum that is closer to a living wage.
Today, Clarke will be announcing a resolution in support of the state measures, alongside Mayor Pugh, City Council President Bernard "Jack" Young and other council members. The resolution will be introduced for immediate adoption at the City Council meeting Monday.
"Raising the state minimum wage to $15 an hour is a step in the right direction, giving people an opportunity to support themselves, their families and to turn their lives around," Councilman Kristerfer Burnett, a co-sponsor of the measure, said in a statement.
The General Assembly bills also call for an increase in the minimum wage for tipped workers. By July this year, tipped workers must make a minimum of $3.63 per hour. If passed, the new bills would raise this wage to be in line with the statewide minimum of $15 by July 2025.
Sen. Richard Madaleno of Montgomery County and Del. Shelly Hettleman of Baltimore County are the lead sponsors of each bill, which have 21 senator and 74 delegate co-sponsors, respectively.