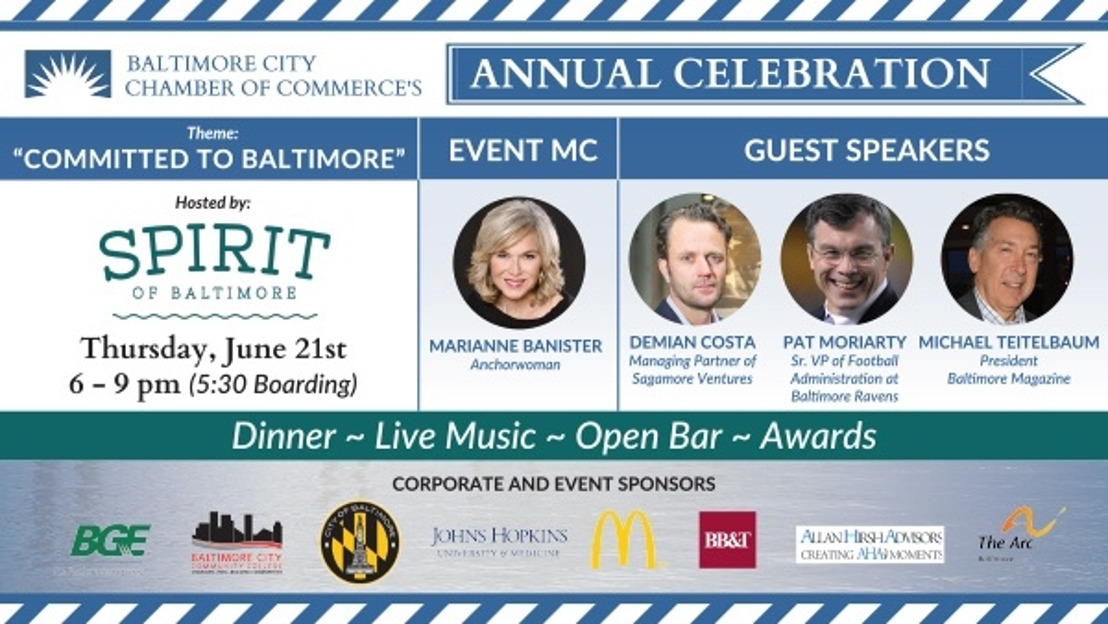 Baltimore City Chamber of Commerce to Host 2018 Annual Meeting: "Committed to Baltimore"
Marianne Bannister to emcee event with keynote speakers Demian Costa, Sagamore Ventures; Pat Moriarty, Baltimore Ravens; and Michael Teitelbaum, Baltimore Magazine
Monday, June 11, 2018 — The Baltimore City Chamber of Commerce,today announced that Marianne Bannister, longtime TV anchorwoman and philanthropist, will emcee its 2018 Annual Meeting, taking place on June 21, 2018 from 6:00 PM – 9:00 PM, on the Spirit of Baltimore (boarding at 5:30).
Themed, "Committed to Baltimore,"this year's gathering features a distinguished group of executives whose dedication to the City's prosperity is unparalleled.Keynote speakers include: Demian Costa, managing partner, Sagamore Ventures, Pat Moriarty, senior vice president offootball administration, Baltimore Ravens; and Michael Teitelbaum, president,Baltimore Magazine.
"The 2018 Annual Meeting will be unlike any other in the Chamber's history," said Richard Craft, chairman of the board, Baltimore City Chamber of Commerce. "In addition to providing an opportunity to network with the City's foremost business and civic leaders, we hope to inspire Baltimore professionals with new channels through which to recommit themselves to Charm City's long-term prosperity."
The Baltimore City Chamber of Commerce will also present the Chamber Advocate Awards to individuals who excel in the following areas: Business Development; Community Development; Education; Workforce Development; and Chamber Advocacy. Nominations due June 14th.
Nominate a worthy candidate here!
The Baltimore City Chamber of Commerce is celebrating its 27th year helping business of all sizes navigate Baltimore's economic landscape. This year's theme, "Committed to Baltimore" was chosen as a way to re-engage our commitment to help both City businesses and residents grow and prosper.
The Spirit of Baltimore is preparing a tantalizing menu, with live entertainment provided by PressingStrings and an open bar!
"The Annual Meeting is not only a celebration of our sponsors and partners, but every single member within our organization whose tireless efforts drive our exponential growth," added Craft. "We will honor those people and organizations who have served the Baltimore City Chamber of Commerce, and by extension, Baltimore City, a with distinction."
WHO: The Baltimore City Chamber of Commerce
WHAT: Committed to Baltimore: 2018 Annual Meeting
WHEN: Thursday, June 21st, 2018 (6:00 – 9:00 pm)
WHERE: Spirit of Baltimore
200 Light St, Baltimore, MD 21230
Secure your registration today!
"Baltimore's growth and continuing transformation into an economic powerhouse reflect an active, invested business community that embraces change and fostersinnovation," added Frederick."An integral yet often overlooked component of our City's future is the need for all parties to work together;lasting change will come to Baltimore but only through a universal commitment to collaboration and teamwork."
For sponsorship opportunities, information on registration or award submissions, please contact the Baltimore City Chamber of Commerce at 410-948-0920 or by email at eben@baltimorecitychamber.org.
ABOUT THE BALTIMORE CITY CHAMBER OF COMMERCE
As the voice of Baltimore businesses, the Baltimore City Chamber of Commerce's focus is to serve as a forum through which members are able to grow their respective businesses. Programs and initiatives foster collaboration long-term growth, and development, and each campaign is designed to promote both members and the City's core value propositions. The Chamber is committed to advocatingfor the continuing adoption of a pro-business agenda by the City of Baltimore and the region on behalf of its members.
For additional Information on membership please visit www.baltimorecitychamber.org